Over the past months, our workshops have focused on the experiences that orphaned children have with respect to their caregivers. We asked the children to express and share their experiences using the following questions :
How is your caregiver important in your life ?
What things do you like about your grandmother/caregiver ?
What is the best thing that your caregiver has ever done in your life ?
What problems/challenges is she/he facing in taking care of you ? What problems do you face when living with your caregiver ?
When you grow up, what gift do you plan to give to your caregiver ?
We used the information from the workshops as a tool to either repair or strengthen the relationships between specific orphaned children and their caregivers. We also used the information as a base of our workshops that aim at building the capacity of caregivers to provide quality psychosocial care to the orphaned children. The workshops highlighted to use the importance of building pyschosocial interventions in the lives of orphaned children that are based on the actual pyschosocial needs as identified by the orphaned children themselves. The interventions then become need-based and demand-based. The interventions address that which the orphaned children would like to be addressed, and not that which we think they need emotionally and socially. The orphaned children thereby participate in the process of identifying problems and needs and seeking solutions.
The workshops that we had with the children also shed some light on the patterns of vulnerability among orphaned children with respect to emotional abuse in households. We, for example, found a lot of cases where the orphans who are related to the grandfather face more emotional harrassment than the ones related to the grandmother within the same family. There are also more cases of strained relationships between the caregivers and the orphans when either the orphan or the caregiver have problems to communicate their emotions and assert themselves. The relationships are also weak in cases where the caregiver did not have any contacts with the orphan before the death of the orphan's parents. As an overall picture, we found that most of the orphaned children have positive relationships with their caregivers. They have a great admiration of the role that their caregivers play in their lives. The caregivers play a huge role in the emotional recovery of the orphans. We would like to play tribute to them in this newsletter, using the photos taken with the orphans and the words spoken by the orphans themselves.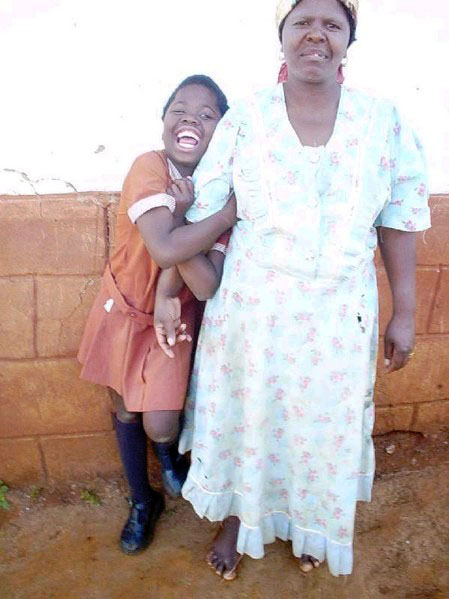 When my mother was very ill, my grandmother and my grandfather were the only one who would visit our house. The other people only came to attend the funeral when my mother died. They did not visit us when my mother was ill. I think it is only my grand parents who really care about us...
Nobody understands me. It is only my uncle who understands me...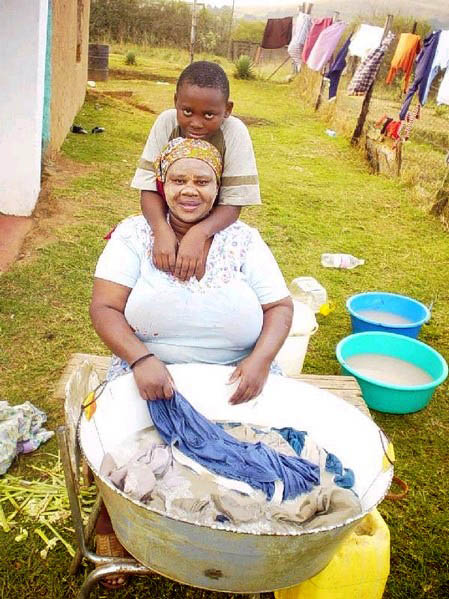 I do not have a caregiver. I live alone with my brother, his girl friend and her son. Initially, our sister was our caregiver. Then the girl friend of my brother joined us. Her girl friend is also an orphan. She was staying with her uncle. My brother made her pregnant. Her uncle chased her out of the house. She now stays with us. Then, my sister run away with a boyfriend. We now remain alone. Our neighbor helps us a lot. But we stay alone. God is my caregiver...
When other children tease me, my grandmother always protects me...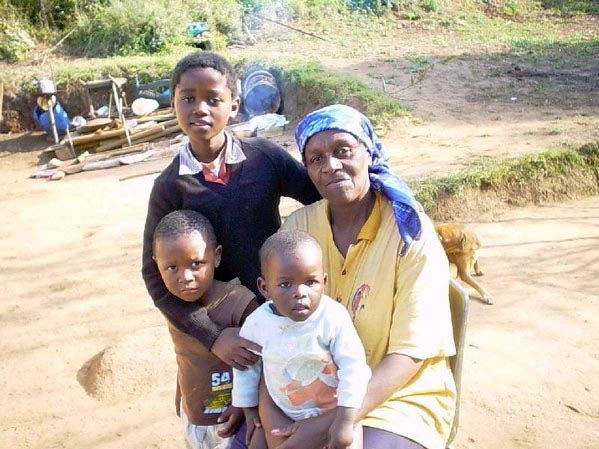 My grandmother has a lot of jokes. She makes me laugh. She also has a lot of folk stories. She also has a lot of songs. She sings in the church choir. She has a bad voice though...
I like my grandfather because he supports Kaizer Chiefs soccer team. I also support the same team. My grandmother supports Orlando Pirates. I do not know why.
I stayed with my mother in the free state. When she died, I came here to stay with my uncle. I speak sotho. My uncle's family speaks Zulu. I am finding it difficult. They talk and laugh. I sit alone. I do not understand what they say.
---
When I had a stomachache, she stayed with me the whole night. She did not sleep.
When my parents died, we went to stay with my grandparents. And then, last month, my grandmother died as well. I now remain with my grand father. He looks very sad. I hope he does not die as well.
I am the only one who washes dishes after the family has eaten supper. Other children in the family do not wash dishes. When they try to help me, my uncle scolds at them. My uncle tells them that I am the one to wash dishes, and not them. I wish my mother were alive.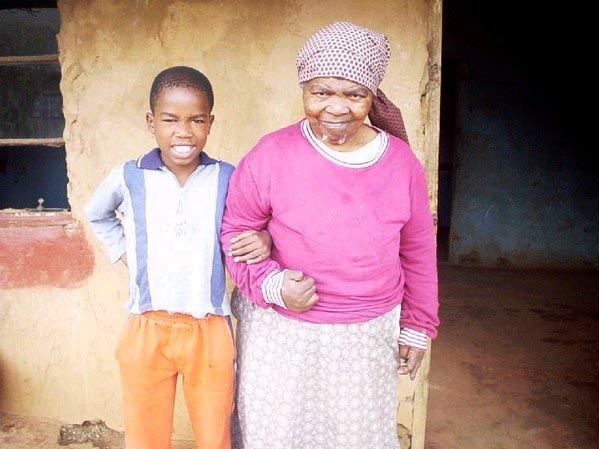 She is good to me. She goes with me to the hospital. We then bring back a lot of pills. She says I have to take them everyday. They shall make me strong. Sometimes, I get tired of taking them. She was very angry at me one day because I hid the pills under my pillow. I was scared. Next day, she became nice again. She told me I need to take the pills everyday so that I should not become sick like my deceased mother.
My aunt does not want me to go and play soccer with other children.
She does not have enough money to buy me a lots of toys.
There are ten people in our house. The house is very small. I wish he would get money to build a big house so that I do not have to sleep with my cousins.