Washington - Blade, Michael K. Lavers - July 24, 2012 - U.S. Park Police on Tuesday arrested 13 protesters who gathered in front of the White House.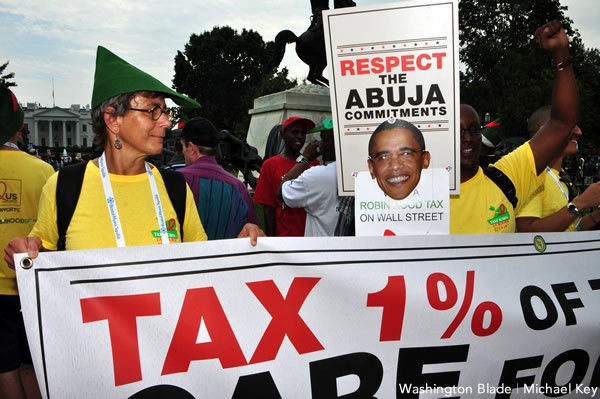 Sergeant Paul Brooks, spokesperson for the U.S. Park Police, told the Blade that those taken into custody failed to obey officers who told them not to stand on the sidewalk in front of the White House on Pennsylvania Avenue, N.W. Housing Works President Charles King, members of ACT UP Philadelphia, the Prevention Justice Alliance and Health Gap were among those arrested as they tried to tie red ribbons with condoms, syringes and other items to the White House fence.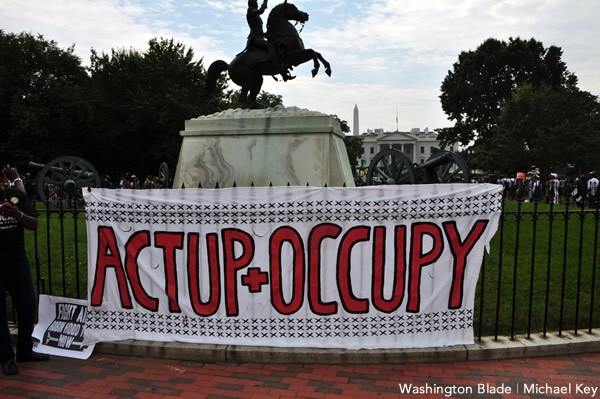 The arrests took place after thousands took part in the "We Can End AIDS" march from the Walter E. Washington Convention Center and other parts of downtown Washington to Lafayette Park. Participants urged President Obama, members of Congress and other lawmakers around the world to provide more resources to fight HIV/AIDS and protect human rights for those living with the virus.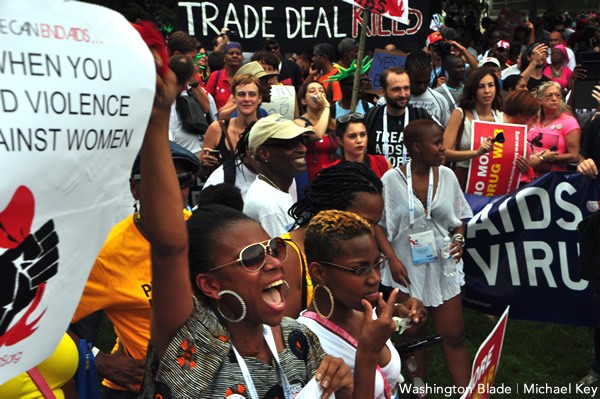 "The march was really to remind those in power that AIDS has been around since the 80s and we're still arguing about the same things," Housing Works spokesperson Sunny Bjerk told the Blade, specifically referring to the ban on federal funding for needle exchange programs and abstinence-only sexual education curricula. "We need to work together. It's going to take a collective effort."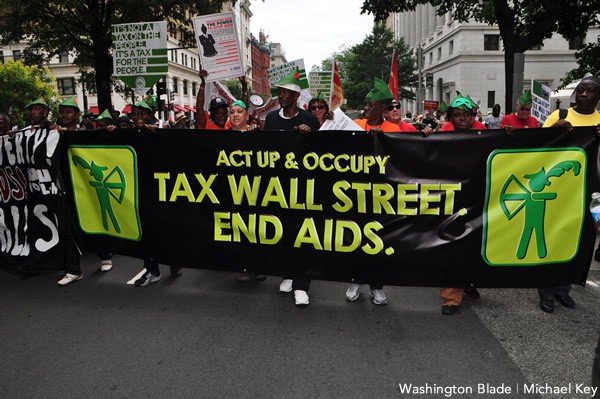 Amanda Lugg of ACT UP New York noted during the Lafayette Square rally that members of her organization threw the ashes of their loved ones who had passed away from AIDS onto the White House lawn to protest what they described as the federal government's inadequate response to the epidemic.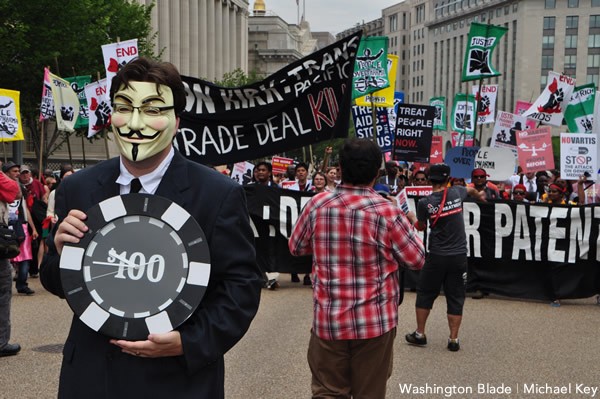 "Activists, including people who are here today, took on the right wing policies that labeled people of AIDS, LGBT people, people of color and people from the Global South as unworthy — unworthy of action, unworthy of services, unworthy of life-saving prevention and treatment," she said. "We confronted that government inaction and today with allies across the U.S. and networks across the world ; we the community, we the people bring a political tidal wave. Today we stand here looking at the results of our political action. The science of 25 years ago was nowhere — now [it] has literally shown that the end of AIDS is possible. We can end AIDS."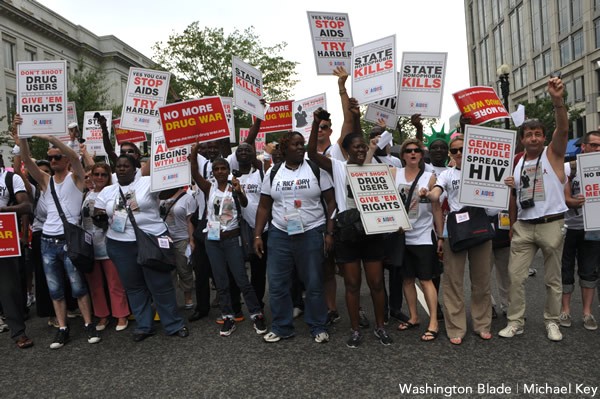 South African marcher Prudence Mabele has lived with HIV for 22 years. She told the Blade that she marched in support of sex workers who were not able to enter the country to attend the International AIDS Conference.
"We need them to be part of these conferences so that we can resolve the problems we have," said Mabele. "We want to end AIDS. And because we want to end AIDS, we have to do it the proper way. The women who are taking drugs must also be here. We need to put all our rights in the front and be what we are preaching because to end AIDS we need everybody — men, women, gay men, sex workers, any marginalized."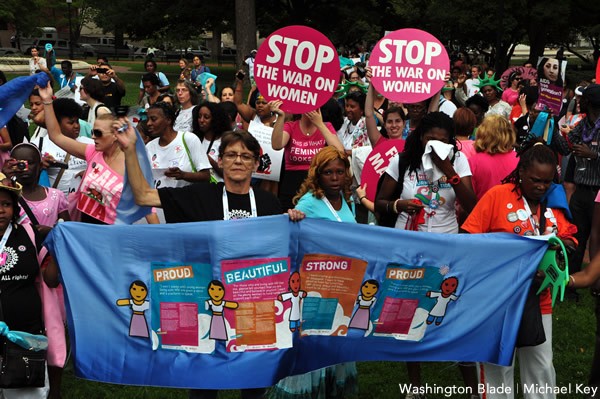 AIDS 2012 delegate Eric Hill from North Carolina said he decided to march to show his support for women's rights. "Women should be treated as equal to men as well as treatment when it comes to HIV/AIDS prevention," he stressed.
Leah Hasezi of the New York City-based Queerocracy told the Blade that roughly 100 members of her New York City-based organization traveled to the nation's capital on three buses to participate in the march. She pointed to HIV decriminalization and the so-called Robin Hood Tax on banks and other Wall Street companies that supporters maintain would generate billions of dollars annually to support HIV/AIDS prevention programs and other social services as two of her organization's top priorities.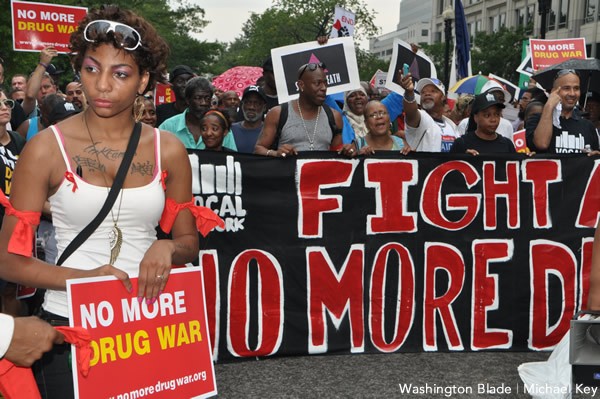 "We have the science, we have the money, we have a way to get the money if we tax the people who have been cheating the rest of the nation," said Hasezi, referring to a cure for HIV/AIDS. "We just need the political power to do it. The president and Secretary [of State Hillary] Clinton both promised an AIDS-free generation so they need to make good on that promise."
(c) Washington Blade photo gallery of the We Can End AIDS march and rally by Michael Key